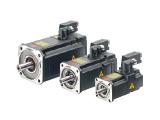 1FK7080-5AH71-1.U. 1FK7080-5AH71-1.V. 1FK7081-2AC7 1FK7081-2
update£º2016-04-28 00:07 Click£ºtimes
brand

model

describe

1FK7 AC servo motor can provide: High capacity per unit capacity therefore less space requirement; The installation method of the plug direction can be determined, which provides flexibility for the structural design of the machine tool; C
introduce
1FK7 AC servo motor can provide:
High capacity per unit capacity therefore less space requirement;
The installation method of the plug direction can be determined, which provides flexibility for the structural design of the machine tool;
Compatible with 1FK6 mechanical mounting dimensions (shaft, flange, connector);
Expanded use of power
1FK7 AC servo motor is high compact permanent magnet synchronous motor. 1FK7 motor with multi pole pairs or single pole pair rotating transformer.
1FK7 servo motor can also be installed with built-in photoelectric encoder. Configuration resolver or optical encoder 1FK7
Flow servo motor for SIMODRIVE 611U. 1FK7 motor is to require no external cooling and heat design.
Can pass through the motor shell. 1FK7 motor has high overload capacity.
model£º
1FK7042-5AF71-1
1FK7060-5AF71-1
1FK7063-5AF71-1
1FK7080-5AF71-1
1FK7083-5AF71-1
1FK7100-5AF71-1
1FK7101-5AF71-1
1FK7103-5AF71-1
ÉÏһƪ£º6FC5548
ÏÂһƪ£º6FX5002-5 SIEMENS cable
more