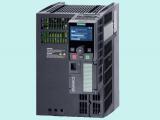 SIEMENS 2013-05-30 drive
update£º2016-04-28 00:13 Click£ºtimes
brand

model

describe

Product Name: SIEMENS 2013-05-30 drive Product model: G120 SINAMICS G120 SINAMICS power module with control unit CU240B-2 and basic operation panel (BOP-2) The G120 PM250 CU240B-2 power module is connected with the SINAMICS control unit an
introduce
Product Name: SIEMENS 2013-05-30 drive
Product model: G120 SINAMICS
G120 SINAMICS power module with control unit CU240B-2 and basic operation panel (BOP-2)
The G120 PM250 CU240B-2 power module is connected with the SINAMICS control unit and the high efficiency 1LE0 SIMOTICS standard motor, which is the economical and practical solution for the main shaft. Basic operation panel (BOP-2) selection in the absence of PC conditions can also ensure that the commissioning and maintenance.
advantage
The integrated regenerative power supply is the most efficient.
Compact space saving design
Innovative cooling scheme and coated circuit board
High durability and long service life
- external heat sink
Control unit natural cooling
- key component coating
High pulse frequency to ensure the quiet operation of the motor
Portable basic operation panel (BOP-2) option can also ensure debugging and maintenance in the absence of PC
The basic operation panel options or MMC memory card options for copying simple and fast parameter replacement unit
For easy maintenance, the power module and the control unit can be replaced separately.
function
4 power modules for 5.5kW, 7.5kW, 11kw, or 15kw for spindle solutions
380V to 480V3 phase AC power supply voltage
Up to 200% of overload capacity
Integrated power filter for 5.5,7.5 and 11kw versions
High performance control unit for spindle solution
Link CNC system analog value + 10V set value interface
For debugging and maintenance of the portable basic operation panel options
For data backup storage card.
integrate
The following components can be connected to a combination of the G120 SINAMICS power module and the CU240B-2 control unit:
SINUMERIK 801
802C SINUMERIK
808D SINUMERIK turning plate
808D SINUMERIK milling Edition
828D BASIC SINUMERIK
828D SINUMERIK
1LE0 SIMOTICS high efficiency standard motor
ÉÏһƪ£ºSINAMICS V60 CPM60.1
more