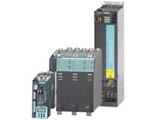 S120 SINAMICS drive system)
update:2016-04-28 00:15 Click:times
brand

model

describe

Product Name: S120 SINAMICS drive system) Product type: S120 SINAMICS S120 Siemens new generation of drive control system, it is a set of V / F, vector and servo control in one of the drive system, the multi axis resources sharing idea and
introduce
Product Name: S120 SINAMICS drive system)
Product type: S120
SINAMICS S120 Siemens new generation of drive control system, it is a set of V / F, vector and servo control in one of the drive system, the multi axis resources sharing idea and modular design makes it can achieve high performance and complex motion control, its performance is far more than similar systems.
SINAMICS S120 products include: for the single axis control AC/AC drive and for multi axis control bus DC/AC drive. SINAMICS S120 the power range is 0.12Kw -4500Kw, suitable for almost all production machinery.
Multi functions: multi mode control in one, suitable for single or multi axis drive. A multi axis CU320 control unit can control a plurality of drive shaft, the shaft on the number and control mode.
Servo control: 6 drive shafts.
Vector control: 4 drive shafts.
V/F control: 8 drive shafts.
Line voltage: one way 200-240VAC, three phase 380-480VAC and three phase 660-690VAC
Control motor type: not only can control the induction motor, but also can control the synchronization, torque and linear motor.
Control function: not only has the high precision of the speed control function, but also has the simple positioning function, realizes the axis relative and the absolute localization. If combined with the SIMOTION control system, the control system can achieve synchronization, cam and other complex motion control functions.
Automatic recognition of hardware: the drive assembly is through the high-speed communication interface between DRIVE-CLiQ to connect to the main control unit, so CU320 can automatically identify the components.
The fast data exchange: each component by means of the drive Cliq communication connection, can be achieved between components of the fast data exchange, any component can very convenient access to data of other components, namely: a driver can obtain data (such as speed and position of actual value) and another drive.
Flexibility: modular design, upgraded. According to the actual need to increase or decrease the corresponding module, or to select single or dual shaft power module.
The parameters of user-friendly graphical parameters: easy to learn interface, according to the real-time display function diagram, dynamic debugging and monitoring to achieve the parameters of the.
The selection and configuration of SIZER software through the wizard conveniently to realize the SINAMICS S120 hardware configuration, and can export the configuration and order list.
TIA design concept: integrated PROFIBUS-DP interface, easy connection and other control systems
上一篇: SIEMENS SIMOTION motion control system
下一篇:没有了
more